When it's that time of the year for getting out to enjoy the outdoors, heading for the best beaches, and firing up the grill, it means only one thing: the summer season has finally arrived. It is also the season to grab a drink that refreshes you—a fruity hint in it would be perfect, too!
resource: http://onyxmagazine.com/wp-content/uploads/summer-wine-wide.jpg
When choosing the best wine for the summer, the usual trick is this: grab a bottle that bursts of refreshing flavor. It doesn't hurt to pay attention to selections that pair up nicely with summer meals and snacks either. That being said, crisp and refreshing wines that nicely complement the summer foods is the best way to go.
Pairing Perfections
During summer, fish and chicken recipes often make it to our tables and they go best with white wines as a general rule. And because we love hamburgers and steaks just as much during this season, red wine would be a great pick as it goes really well with red or dark meat. In fact, Pinot Noirs, Shiraz and Merlots complement with grilled meat. Sangria also pairs up well with chips, nachos and other summer snacks, and is even great with some salad.
resource: http://blog.greatmate.com/blog/wp-content/uploads/2014/07/wine-and-cheese-picnic-date.jpg
Generally, afternoon wines during summer are chilled, slightly sweet whites. They are best paired with cheese, crackers and fruit platters. There is no rule against having reds during the summer, but because of the warm weather that would necessitate some relaxing, cold drink, a chilled bottle of it can make a lot of difference!
resource: http://alexandervolkovfineart.com/upload/Work/649/summer-wine-1.jpg
Wine Picks for Your Summer Party
During a summer party, wines are best kept cold either in a wine fridge or ice buckets. If you're expecting a big crowd, make room for your wines in your conventional refrigerator. While regular fridge often makes a wine too cold for optimal drinking, it helps maintain the ideal temperature for wine during this season.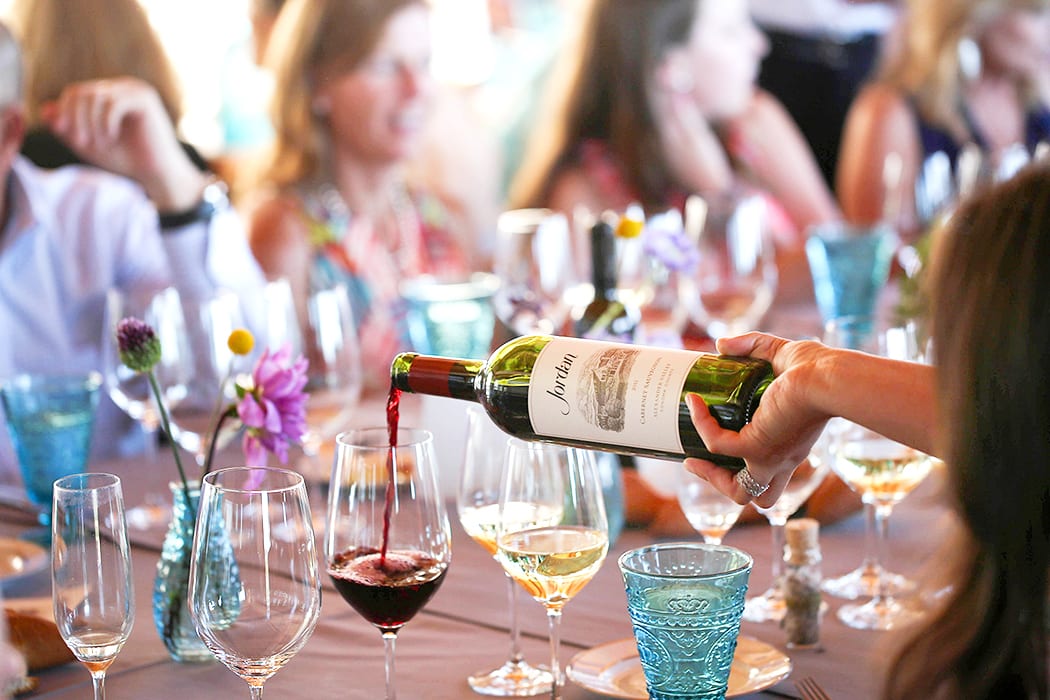 Here are some of the best wines during summer which, with the right pairing, will surely wow your guests:
Chardonnay

is a crisp and light wine that is popular during the warm season.

Pinot Grigio

is little sweeter than Chardonnay and goes well with spicy dishes.

Pinot Noir

is lighter than most reds and may be served slightly chilled.

Riesling

comes in dry and sweet varieties and doesn't need to be paired with any food.

Sauvignon Blanc

offers that crisp, dry, and cool sensation and perks up grilled food.

Grenache

complements smoked meats very well.

Zinfandel

has the richest flavor that matches that filet mignon.

Prosecco

, Italy's Champagne, sparkles with just enough fizz with a hint of fruity flavor

Rose

has the ideal blend of a rich red and crisp white without compromising sweetness.

Viogner

, a white varietal dessert wine, is perfect with sorbet and tropical fruits.

Ice Wine

, made from winter's grapes, needs to be served cold and nice on a hot day.
resource: http://www.oldlinewine.com/wp-content/uploads/2014/08/rose-wine-key-largo-sunset-life-is-good-jonathan-galente.jpg
Are you ready for a refreshing, sparkling summer? Enjoy life at a relaxed pace with the best wines to please your palate and cool you down this season!